Mr. Black here, dear readers, and today we're going to look at this year's Adepticon from a behind-the-scenes viewpoint from myself and the other CoolMiniOrNot staff.
It's one of the largest gaming events in the country held in one of the largest cities, and it just so happens to be a thirteen hour drive from our HQ here in Atlanta, Georgia. What does this amount to? Well basically it means yours truly and two of his closest allies here at CMoN would be road-trippin' in a 26 foot U-Haul van to bring all the whimsey and wonder of Dark Age to the gaming masses.
How did it go? Let's review...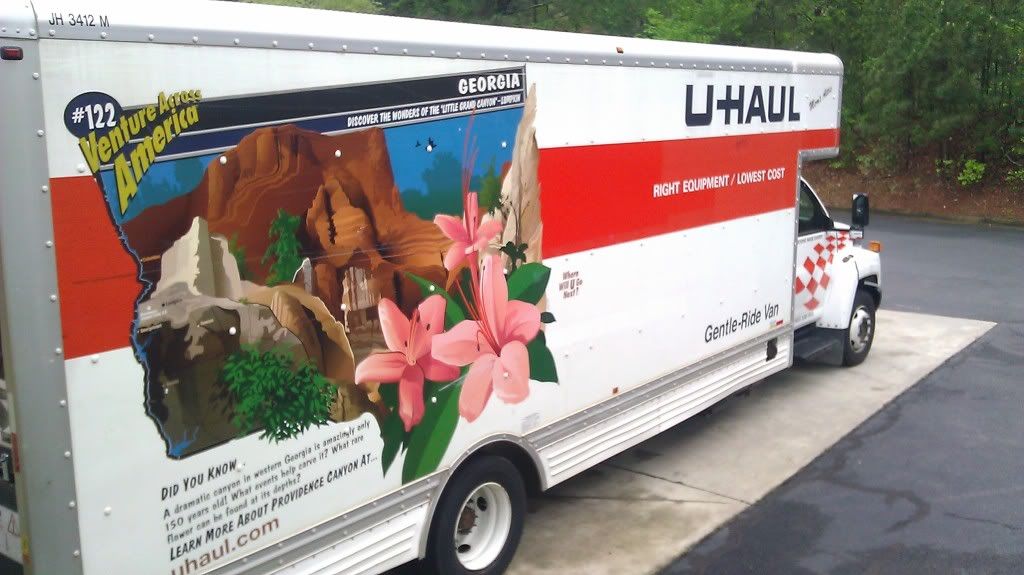 For those of you who have never had the unique experience of piloting a U-Haul truck, specifically a bigger one, I will describe it as such: Basically imagine a sleek, well controlling street car- the kind with an exactly tuned steering wheel, pinpoint brakes, and a smooth ride at 80 MPH... The exact opposite of that, in every way, shape, and form. I had never had the privy of driving one of these things before, so naturally it was strange to me that you could turn the steering wheel almost a full 20 degrees before the vehicle began moving, coupled with the fact the brakes required being pressed about 1/3 of the way down before they would begin acting as "brakes"... And no, I did not drive most of the way, we had a veteran for that, and our trust was in him.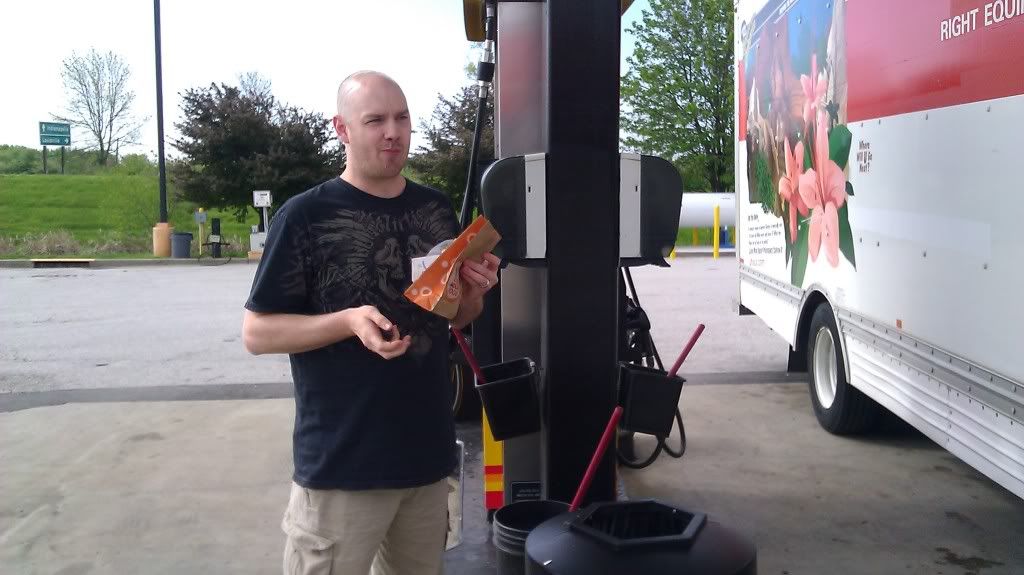 That man would be Josh, who you can clearly see thinks nothing of this challenge and will easily tame the wild beast that is the 26 ft. U-Haul... I can honestly say, he is a braver man than I.
I would like to say the trip was exciting, full of all the adventure that one would expect from the zany idea of a group of gamers traveling 'cross country, but in all honesty this is literally what you have to look forward too the entire way there and back: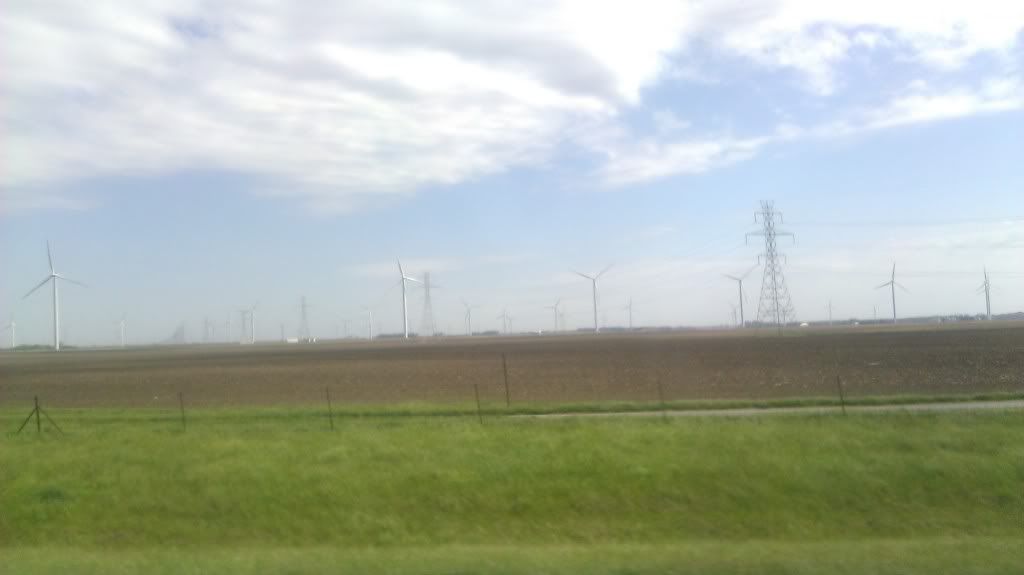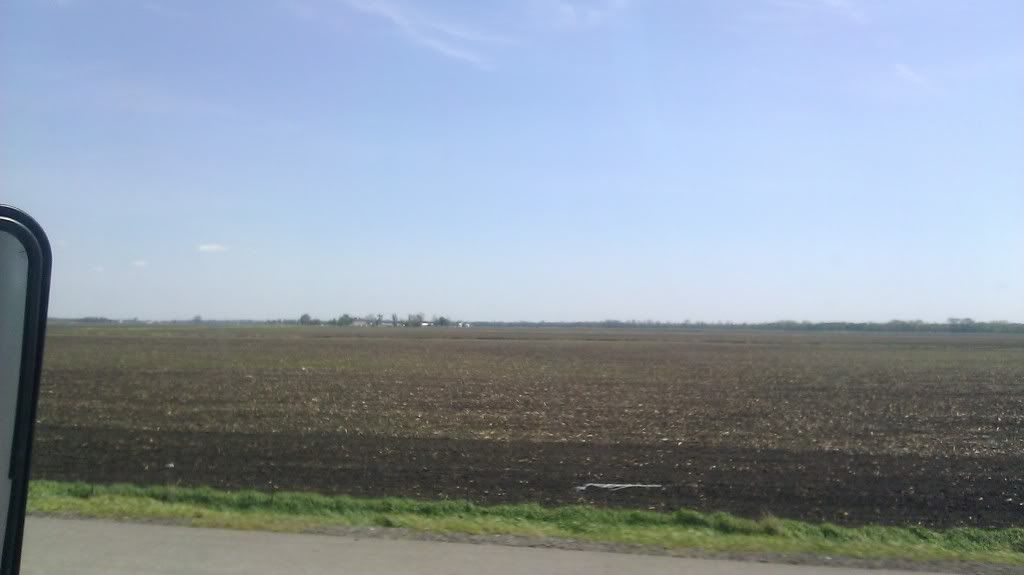 Those are pictures of Tennessee, Kentucky, and Indiana... In which order I am not exactly sure, as it's a funny thing, after a while all those states just begin to run together.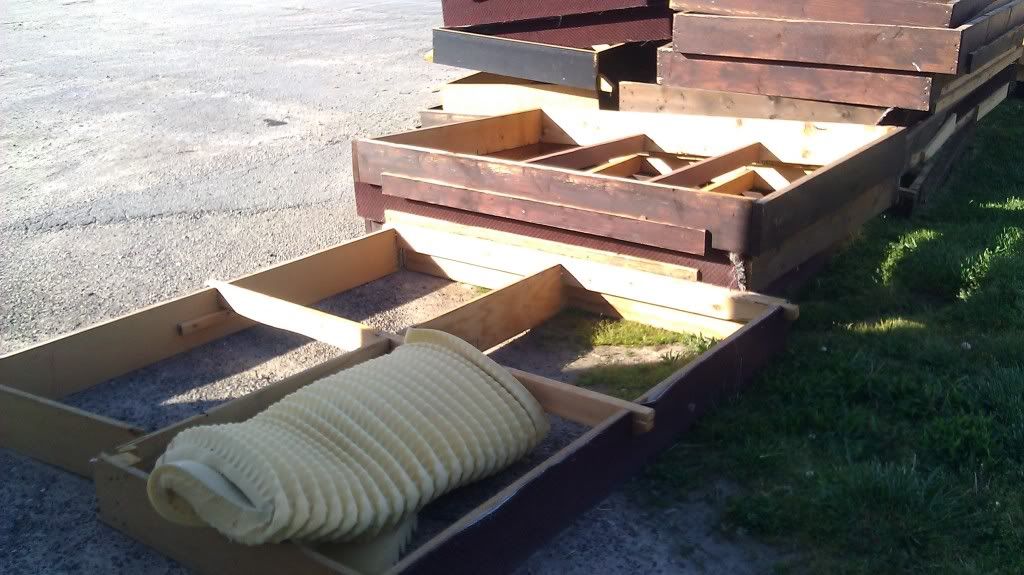 Those are some abandoned bed-frames that where sitting next to the truck stop in Indiana... They were literally the most exciting thing I saw over the course of thirteen hours...
Does this sound exciting yet? I'm sorry if it isn't, so you can just consider this a warning if you are planning anything similar, and take this one bit of advice with you: take a funny friend along with you. In our role (yes, we had
three
people in the Uhaul) we had Mike, whom I sadly do not have a picture of. I will, however, say this: had he not been with us to constantly find a way to make each and every thing we passed funny we surely would not have made it.
I know you may question why I took two pictures of a clock only one minute apart... That was twelve hours.
Of course, once we arrived, the actual work began in reverse: we had loaded everything onto the van easily enough, now it was time to
unload
it all and set it up for display... Right after our road-trip. But hey, it was Thursday, once this was done we could rest before the weekend began proper.
That would be Dave, aka Grafter, aka the man behind CMoN- Never let it be said that we do not have a boss who only sits back and watches us work: Dave gladly made those hand signs for this photo,
then
went back to watching us work (I kid, of course, he was a big help).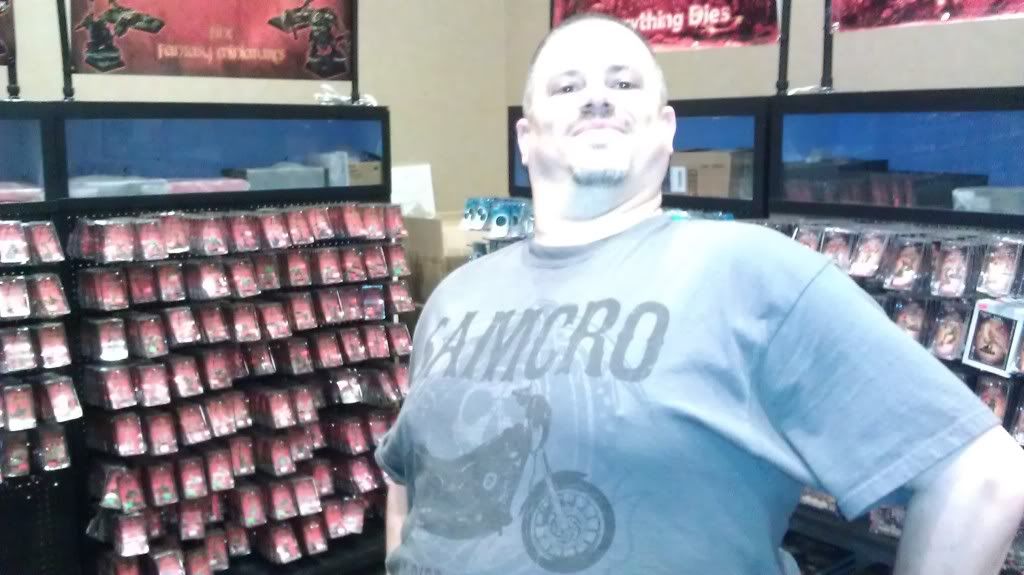 Chris, one of our Dark Age volunteers, also a big help not only during set-up but down in the trenches, helping us demo games all weekend long (sorry I couldn't get a better picture!).
Justin, whom I apologize for not getting a better picture of, another of our volunteers. I would also like to take this moment to once more thank the hard-working volunteer staff we had, not only for Dark Age but for our other game systems as well. It's a hard, often thankless job that they do out of enjoyment in both the game and helping people in general, and not everyone is up to that task, or capable of handling it for such a long stretch of time. Both of them did admirably and got a lot of people into Dark Age (and the other CMoN games as a whole) and their commitment should be noted.
After all was said and done it took roughly three hours to get everything unloaded and set up, but the end result was worth it: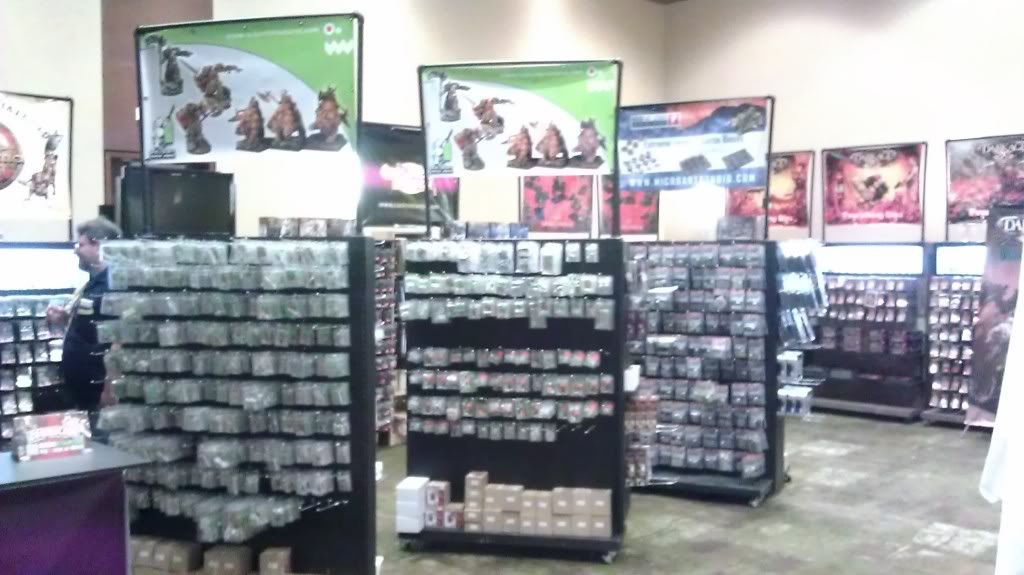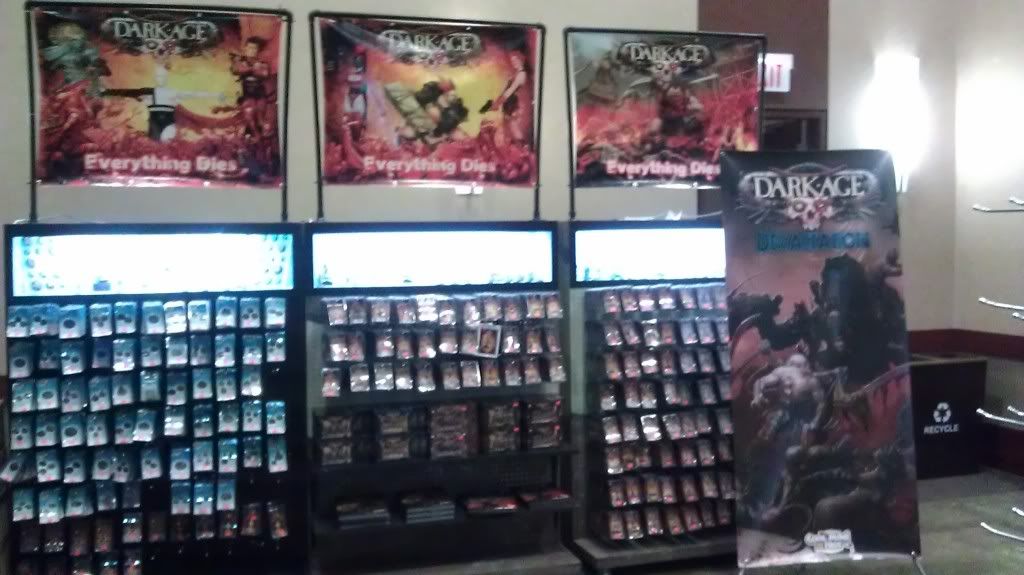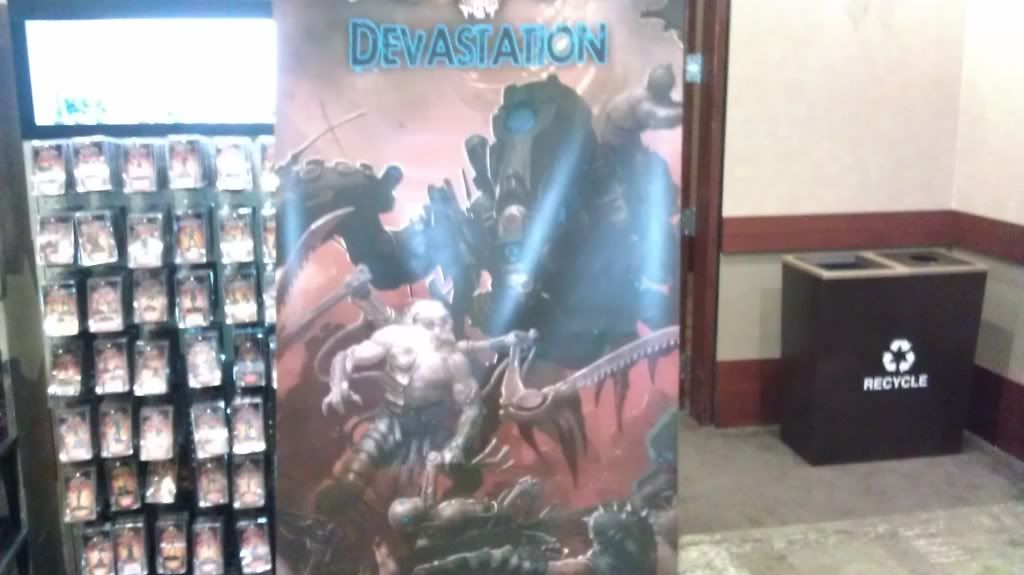 Unfortunately, I was unable to get any during the hours of operation of the con. Why, you may ask? Well simply Dark Age exploded at Adepticon! Between Justin and Chris running non-stop demos, myself giving lectures about the backstory of the factions, and of course everyone answering the numerous questions all the excited new players had we were simply busy
non-stop
from the time the doors opened at 9 am to the time they shut at 7:20 (noting the hall closes at 7:00 PM).
Overall it was a good weekend for everyone; Dark Age had a big boom, we drew lots of attention from not only players but other event staff as well, and generally had a lot of excitement and awe shown to us- all promising signs for the future of the game we love... Of course, it didn't hurt that we had the studio-painted versions of 95% of our range in the display either!
Never let it be said those miniatures are photoshopped or digitally altered: come to one of our cons and you can see for yourself that even these pictures here don't do them justice: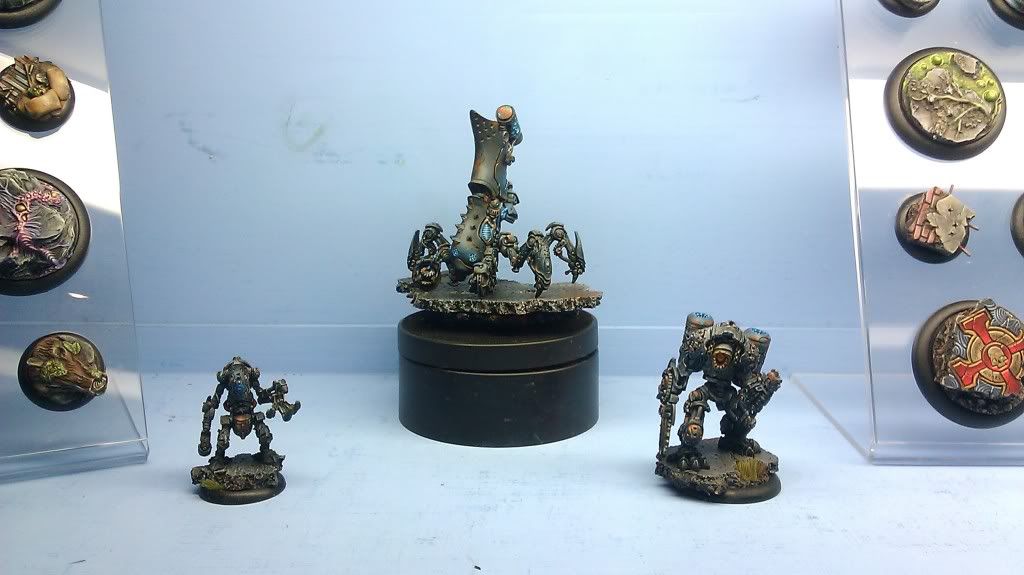 The CORE, of course, drew lots of buzz as people just seem to like the idea of giant, killer, robots. Who knew?
Come Sunday everyone was beat, but we were able to leave knowing this con had been successful. Everyone had done their part (and then some) and the players, new and old, walked away satisfied and excited, which in the end is the main goal. Now all that was left was to repack everything and enjoy a drive back to Atlanta.
Oh wait...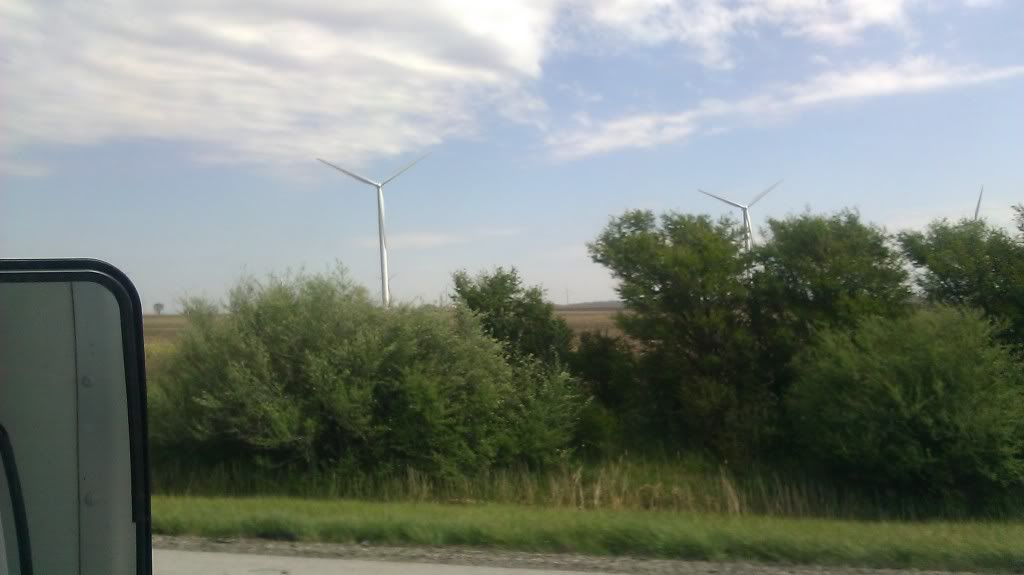 Sonnuva...
And that concludes my Road Trip log, dear readers. I know it may not have been specifically "Dark Age" focused but I hope it gave you guys a nice look at the dedication of all our staff here at CMoN and how much we like you, the players, and the game we support. See you all at Gencon (only ten hours away!) -Mr. Black