Mr. Black here, dear readers, and this time we're going to be trying something a little different. I know usually we'll discuss strategy and tactics, going over whole warbands and their interlinking roles, but this time I wanted to focus more on the actual story behind some of our favorite units and models. Sure, we'll talk about the tactics as well, but in the end we choose our favorites not because of a set of rules outlining them (well, maybe you do, nothing wrong with that either!) but because we come to love the
ascetic
of them,
who
they are and
why
they do what they do.
For myself, this has always been one of the greater joys in miniature gaming: You can view it as just pushing a set of rules around, but when you actually grasp and understand what those rules interpret, be it an unstoppable juggernaut raging with power, an insane, evil presence out for control, or, in the case of Mary here, one of the few true "Good Guys" in a world of moral gray-scale, you gain a deeper satisfaction of the game, turning it from a fun time-killer to a full hobby, layered with lore and mechanics and a deeper appreciation for your models, your
characters
, and why we love the ones we love.
That being said, let's take a look into why Saint Mary is one of my favorite figures on Samaria.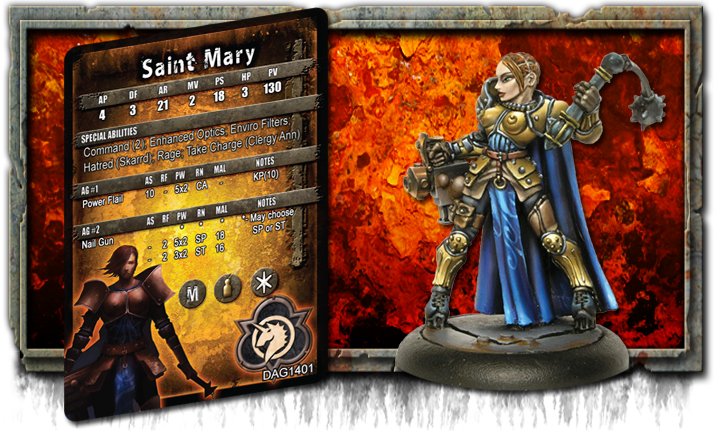 Ask anyone familiar with Dark Age
"Who is Saint Mary?"
and you're liable to get one answer above all others: "One of the four Saints of the Forsaken", and while this true, we must also remember that there have not always only been four Saints. Many have come and gone, the most influential of them being Johann the Heretic, but almost as important in how the present world is shaped is the Fallen Saint Matthew, and it is with him that Mary's real story begins.
Of course, I implore you to check out the full sequence of events, as outlined in the
Dark Age: Apocalypse Force List
book, but for the uninitiated I will paraphrase here:
Saint Matthew was sent to secure control of the Salt Nomads, and thus the Salt Trade, in the North. Being the sole dictator of an entire region Matthew began using extreme and often brutal methods of subjugating the indigenous population, ruling from a seat of fear and power.
Unbeknownst to Matthew, however, the Baniss had begun their vengeful warpath upon the Forsaken, who had driven them to exile so many years ago. Matthew, being a man of arrogance, saw this as another mere trick by, what he viewed, rebellious tribes of the North, and set out on a mass crusade to destroy them, unknowing that they had already fallen victim to the bloodthirsty tribes of the Baniss. Falling prey to the superior numbers, as well as tactical mind of the Toxin Cult's leader, Father Curwin, the Corrupt Saint Matthew falls- His reign ending at the hands of this new threat which would come to be known as the Skarrd.
Fitting into all this, we have Mary, who had the time was a member of the elite (and often zealously insane) Firestorm Unit. Having spoken out against her superiors Mary is set to patrol the most dangerous areas of the Northern Wastes, and is soon captured by the Toxin Cult. Though being subjugated to horrors beyond description while in her captivity, somehow Mary and the other survivors escape.
The next time she is seen is staggering into the Forsaken Outpost, having survived five days exposure in the harsh Salt Wastes, her only surviving companion a lone Bane trooper, carried over her shoulders in a stark refusal to allow another soul to fall victim to the monsters calling themselves the Skarrd.
Since that time, the now Saint Mary has risen to full control of the Northern Crusade, though she cares little for the politics that so ruled Matthews reign. She is a woman fighting for the people, having witnessed first-hand the true horrors awaiting them just beyond the horizon. She has seen what, in her mind, is the very face of the Devil, and it has filled her with an iron resolve that no other shall be claimed by these demons while she still stands.
She is a force of divine rage made manifest, and she fights not out of a sense of personal glory or gain, but merely to prevent any other unfortunate soul from bearing the scars she gained so long ago.
If that doesn't get the blood pumping I don't know what will, dear readers! But now that we know her story, let's take a look at her chosen means of combating her foes:
Enhanced Optics, Enviro Filters, Command (2):
Saint Mary has full access to the wealth of resources her title allows, and along with it the loyal support of her followers. Given this she, like all the Saints, makes good use of the best in environmental protection, as well as sporting the
Command(2)
ability, showing just what an inspiring presence she is on the battlefield.
Hatred (Skarrd), Rage
: As detailed above, Mary has more than a little animosity towards the forces of the Skarrd, seeking out and destroying them wherever possible. More so, such is Mary's conviction that the very idea of falling to these loathsome creatures fills her with a holy fury, as shown in the
Rage
SA, which makes her more powerful the closer to death she is. Of course,
Rage
is a handy tool when channeled properly, so while it may stem from her dealings with the Skarrd, Mary will use it against any foe who would dare to cause her people harm!
Take Charge (Clergy Ann)
. Strong leaders bring strong followers, and nowhere is that present more than in the Clergy Ann sisterhood. Each bears the name of Mary's first acolyte, the very Bane trooper whom Mary saved all those years ago, who in her dying breath whispered only an apology to Mary for succumbing to death before she could finish the fight. Here we see just how faithful Mary's followers are: They are willing to live, fight, and even die for what Mary herself embodies, the ideals of courage, dedication, and self-sacrifice.
Moving onto weapons we find that Mary comes standard equipped with a Power Flail, a weapon long since associated with religious Templars and warriors. Of course, being the keen combatant she is, Mary wealds her chosen melee weapon with an impressive
AS:10
. More so, the weapon hits at a very respectable 5x2 hit, while also gaining the benefits of
Hatred (Skarrd)
as well as
Rage
, meaning that should Mary be heavily wounded she will fight with even higher levels of righteous fury, bringing her PW to a staggering 9x2, 10x2 should the opponent be her most hated foe!
Lastly, and perhaps most deadly, in this Saint's armory we see Mary's chosen ranged weapon is a
Nail Gun
. Now, of course this is not the standard Nail Gun one thinks of, no, this is a holy relic found deep within the ruins of one of the many bases left untouched since the days of the United Worlds occupation. Such a weapon is unruly at best and dangerously unstable at worst, but none can deny its potential on the battlefield.
In game terms, this translates to the
Nail Gun
being able to fire a devastating stream or spray attack- not only that, but do note that the
Nail Gun
is the only RoF 2 stream/spray weapon in the game! That's right, not only is it dangerous but it's going to be shooting twice a turn, also being able to pick and choose just how it fires with each shot! Sure, it may Malfunction rather easily, but given Mary's thick AR: 21 even the worst backfire from it stands little chance of real harm- an unfortunate truth that does not hold for her enemies!
And there you have it- we've taken a full look into just what makes Saint Mary Saint Mary. We see beyond the AP and the PS and all the game stats to, what I hope, is a flushed out and robust character perspective of one of the most noble and courageous figures in the entirety of
Dark Age
.
Saint Mary truly embodies what it means to be a Saint, and while she still carries on her crusade the people of the Forsaken know that they will always have at least one true hero. -
Mr. Black