Greetings, dear readers! Mr. Black here, and this week we've got something a bit… different planned for you! As you can probably tell from the title we have a great Battle Report here, but we're going to try it in the narrative structure, rather than just hard math. What does that mean? Well it means we're telling a story here, a (hopefully) epic encounter between the forces of the Ice Caste Dragyri, lead by the Arbiter of Fate himself, and the ragtag warband of the Outcastes, featuring none other than the living legend himself: Mongo!
What will happen when these two titans of the battlefield clash? Can Mongo even survive the savage fury of the Ice Caste Elementals to even make it to Luck'kit-kaii? Read on to find out!
Clash of the Titans, Part I
"Oi, Boss, I got a bad feelin' about this. I know they's jus' a couple o'em but look at the size!"
Gethin commented, lowering his eye from his crude folding telescope.
"Jus' a feelin'… It'll pass…"
he said, reassuring himself as he pocketed the device, his other hand instinctively coming to rest on the Slug Gun at his waist, his fingers tapping across its handle nervously. Gethin had been in his share of uphill fights, and was no stranger to the dangers of the wastes, but the opponents that stood before him; they were of a different sort than he was used to. Their size, their strange armor, even the way the air moved about them, creating a strange mist that, even from this distance, sent a shiver down his spine. He had a bad feeling about this one…
"Gethin, I don't much care how big they are. Just means they'll fall all the harder. Besides, I need you focused, they're planning something, and why else would they just wait for us to attack? They know we're here; they could come and get us any time… No, their waiting."
The Warchief watched the towering creatures for a moment longer before stepping forth, removing his gun from its holster and readying his halberd. "Well, let's not keep them waiting all day, boys." He said, a small laugh following as he began to march forth.
"Let's get in there and have some fun!"
-----------------------------------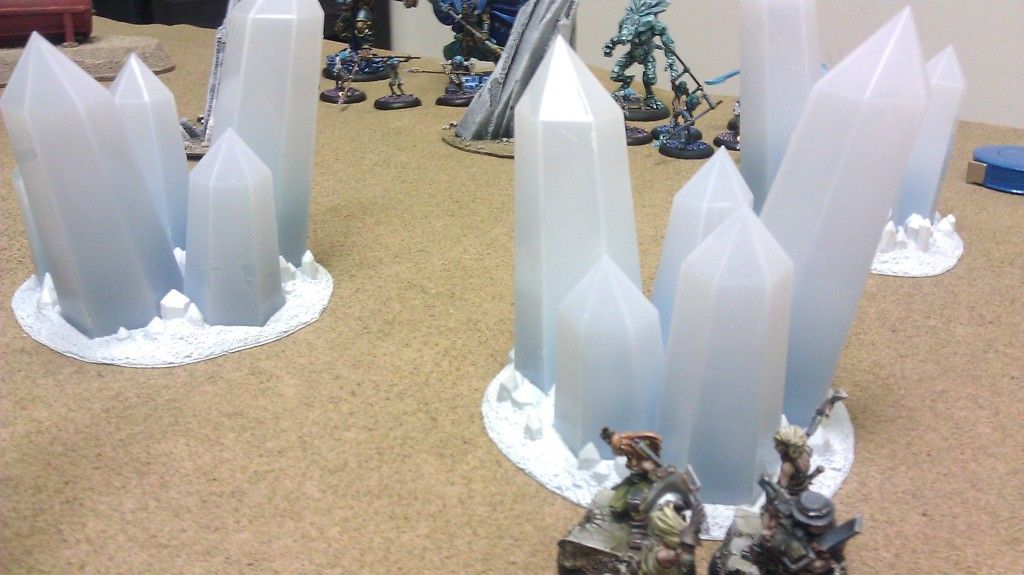 "What'cha suppose those things are?"

"Blasted if I know, but I want that one's cape!"

"I want me that axe that big un's got!"

"Shut up the lot o' you or the only thing you'll be taking is a dirt nap!"
barked Birch, the resident Bully to this squad of Scuts. The small group had managed to sneak their way up this far, but something was definitely off. As soon as they had hit the large field of freezing crystals the Bully's danger-sense had been going crazy. He knew they were too far ahead, too close to an unknown enemy, but of course he couldn't voice that, he couldn't show uncertainty or worry in front of the Scuts, least they begin to undermine his authority.
"Alright you little pests, we've scouted up far enough, ain't no good loot 'ere, we're headin' back n-"
he cut himself off as a strange mist began to rise around them. The entire group fell silent as it happened, a chill, seeming born from the very air itself settling over them. Birch raised his hand to his mouth, signaling the Scuts to fall silent. The chill rose all around them, even the staggered breaths of the Scuts to pour out in icy gouts.
"L-let's get out of here!"
stammered one of the Scuts, looking up to Birch, the usual brash tone of the adolescent replaced with the worried cracks of a child.
Birch furrowed his brow, looking off towards friendly lines.
"Alright, keep low, keep quiet, and do exactly as I say, and so help me if I hear so much as a whimper from any of ya' I'll toss you to those creatures myself!"
Truth be told, the beating inside his own chest was increasing in pace, he knew something was wrong, that both he and the group of Scuts were in some terrible, unknown danger. He turned, ready to move and get back to the safety of the larger warband, but it was then it happened.
Without warning and without notice the air around them began to stir, the frozen winds which had been slowly rising around them now whirling about in a frantic bellow. The frigid gust encircled them, preventing any escape, meanwhile the winds rose higher, and what had started as the low sound of wind now rose to almost a screeching pitch.
The Scuts pressed against each other, back-to-back as they stared in bewilderment at the raging storm around them. Birch stepped back, Slug Gun raised as the other hand beckoned the Scuts behind him.
"Be ready to move! Whatever direction they come you head the othe-"
He never got to finish that sentence as, seemingly out of the very funnel of the storm rose a creature, scythed arms slicing the Bully before disappearing back into the storm.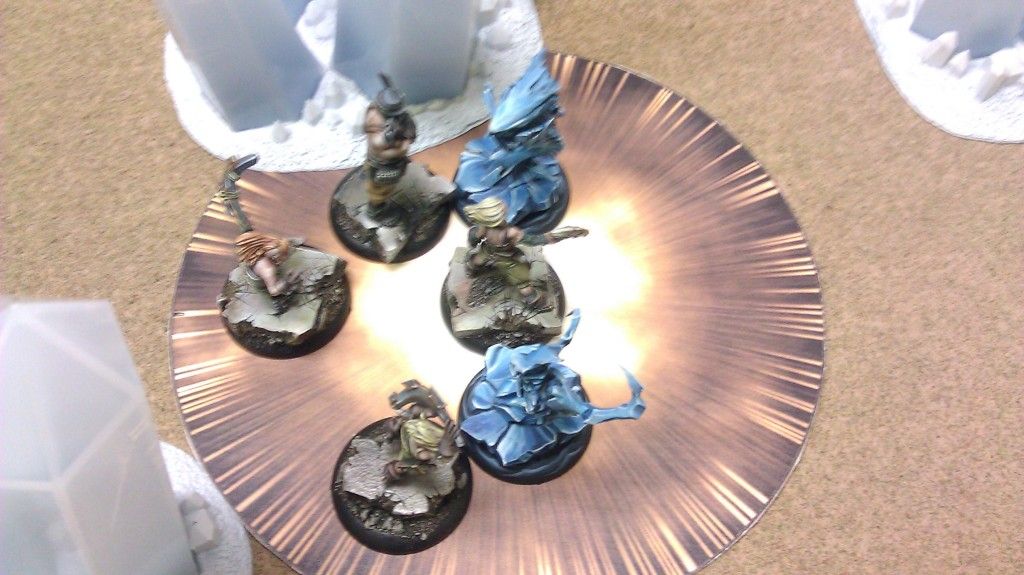 The Scuts panicked, the first merely stood there, whimpering to himself as he held his shiv close, turning constantly to face an unseen attacker. The other two darted forth, hurling their boomerangs ineffectually against the raging winds as they let loose frenzied cries before darting into the raging storm. Their shrill cries were the only sound that rose higher than the winds as the last remaining Scut stood there shaking, his back now pressed against the frozen crystal.
His breath lumped in his throat as his eyes betrayed an animalistic panic, but his fate was already sealed as an icy figure carved its way out of the raging winds, a monster made of ice and malice, one that knew no mercy as it let loose a feral shriek, raising its sickled arm to strike down its latest foe.
Meanwhile, from across the battlefield, the old Soul Warden looked on, his sight extending through the Elementals he had summoned. He saw them, their fear, their panic, even their dying breaths as they rose into the air, chilled by the savage winds of the Hail-Kin. In truth, he also knew them to be nothing more than younglings, but such facts lay meaningless to the elder Soul Warden: they had entered the battlefield; they had become the enemy, and anything beyond that held no importance.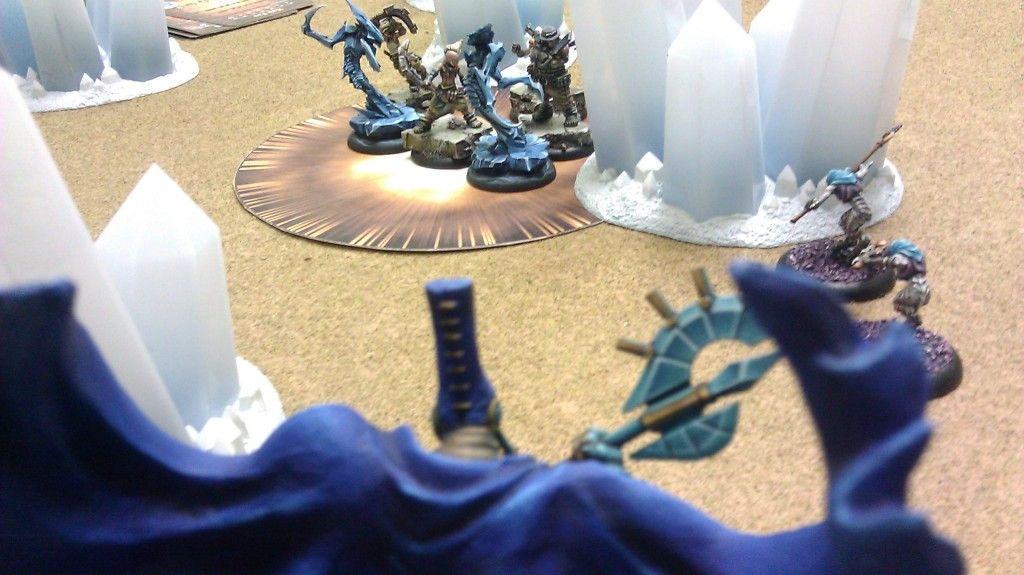 With this he raised his hand, beckoning the raging Hail-Kin return to him. The task done his mind pushed forth to the mighty Ice Elemental beside him,
"Go, strike down those who would stand against us."
It was with this silent command that the towering monolith of ice stirred to life, its frozen talons flexing as it lumbered forth, the ground itself turning to snow and sleet with each of its colossal steps.
Meanwhile, the grand Arbiter of Fate, Luck'kit-kaii, silently watched his troops advance. The stoic figure lay motionless, his hands resting on the hilt of his mighty axe as he surveyed the field, gaze unflinching as he moved from one warrior to the next. They were disgraceful, the enemy before him, their weapons bearing the signs of "Those Without Honor", and with each passing glance he began to despise them even more. His eyes finally came to rest on the largest of the advancing horde, a muscled behemoth moving forth with a will and purpose unlike the rest of his honorless group. The Arbiter's gaze lingered on him, assessing him as not only the biggest threat but also having the potential for honorable combat.
An answer was forthcoming, as the large behemoth's attention came upon the Arbiter, and with an earth-shaking roar he bellowed out a challenge, hands clashing against each other as the large metal sheets on each arm clamored together. Silently, Luck'kit-kaii motioned towards the Slaves before him, beckoning them forth into combat. He had no doubts the behemoth in front of him would make quick work of them, but it was a test all combatants must pass.
His hands rose from the heavy axe in front of him, one plucking it from the frozen ground as he advanced. Should this creature wish an honorable death then the Arbiter of Fate would make it so.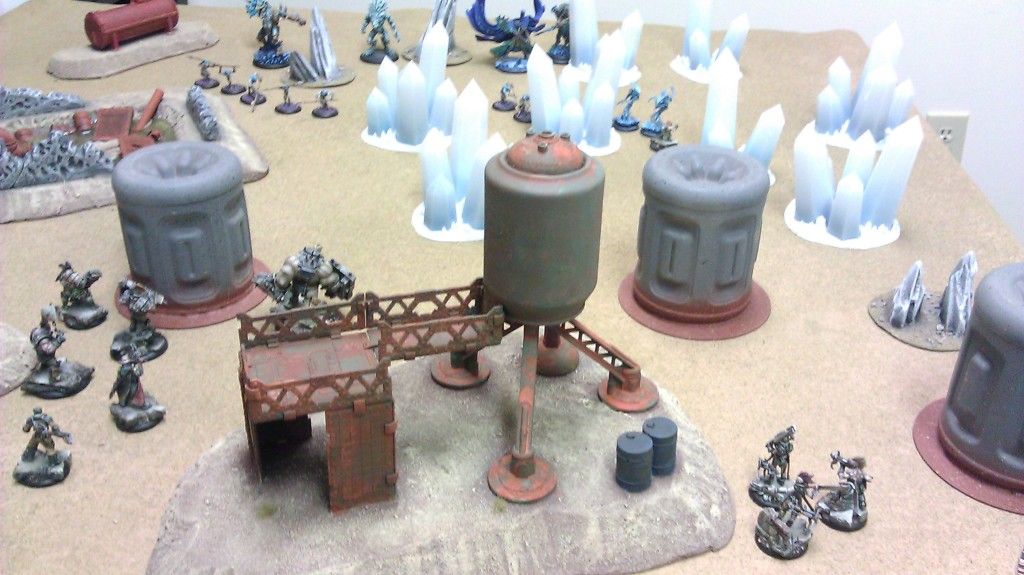 A taste of things to come…