And we're back for the next installment of
Clash of the Titans
! The preliminary skirmishes are wrapping up and soon the two main contenders will step up to fight, but it's an uphill battle for Mongo as the Arbiter of Fate isn't done testing him just yet!
Mongo gazed across the battlefield, eying the largest of the ice-laden monsters in front of him and issuing forth a bellowing challenge. It was obvious he was the leader of this warband, and Mongo knew that taking him down was the key to stopping this threat- to stopping anymore Outcast lives from being lost this day. He turned to the Brute pack following him and, with only a slight nod, said all he needed to: it was time to move forth, to engage the enemy and show them the might of the Brutes.
Mongo took the lead, his large frame blocked by the equally gigantic steel and concrete blocks strapped to his forearms- though even he knew this was simply a result of his training, from even this great distance he noted that none of his enemies seemed to be brandishing ranged weapons of any kind. Unfortunately this fact seemed little comfort looking at their bulging frames, fortunately, Mongo loved a good fight, and it seemed he had riled up his axe-wielding foe.
----------------------------------------
The large creature now advanced upon him, but with such bulk he was slow, but not to the point of sluggishness, perhaps this would be a challenge after all.
"Let us test him..."
Spoke the Arbiter, his tone low and husked. He had no doubts this creature would make short work of the Slaves, but honor demanded he be tried before combat could ensue.
"Slaves! Go forth!"
A single command issued by the great Arbiter was all it took for the large group of Slaves to begin their assault, running forth with wild abandon at the monster before them- Fear rising in each of them, but their great overlord had commanded them, and thus they obeyed.
As they advanced, the old Soul Warden moved back to regroup with his kind, keeping a safe distance, knowing that soon the Arbiter would be in the center of this whirling maelstrom of combat. He beckoning the nearby Death's Device to aid him, acting as a standing bodyguard. Meanwhile, he roared out to the small band of Slaves accompanying him,
"Your betters move to fight! Join them in kind!"
With this the small band darted up, weaving amongst the large ice crystals, hoping to gain some element of surprise on their foes. The Soul Warden smiled at this- he enjoyed seeing Slaves try and use tactics, as trivial as it may be.
----------------------------------------
"Looks like there's a good fight going down ov'er there."
Spouted one of the Wasteland Warriors.
"Yep, they're fighting some right nasty lookin' things."
replied a second.
"You wanna get in'ere?"
said the third, readying a fresh grapple-hook into his gun.
It was then that the three of them heard Mongo's great roar bellowing across the field, an open challenge to any to stand against him. Despite having heard it time and time again the three cowered, hunching down out of reflex.
"You wanna get in his way?"
"I see yer' point, maybe we jus' watch this 'un."
"Don't see no good loot over'ere anyway"
With that the three began to slowly move back towards the large building, safely deep within their lines. To what original purpose it held they had no idea, but right now it was easy cover and a quick escape, should the fight turn sour. It was also easy climbing with their zip-guns, and meant that should anyone question what they did during the fight they could always lie and said they where simply too sneaky to see.
----------------------------------------
"We gonna let the big'uns handle him?"
"Gethin, when don't we let the Brutes handle things? Let's at least allow the boys to have some fun and maybe soften them up. Besides, they're not acting right... No, they're smarter than I'd like to think..."
replied the Warchief, his mind still analyzing the foes before him. It was strange, with their size and obvious strength they should be attacking as one large group, and yet they stood back, sending out their smaller kind to needlessly get slaughtered- It was a waste of resources, and he had to believe there was some ulterior motive behind it.
"Gethin, stick close to me. Something's up, and I don't li-"
"MOVE FASTER YOU WORTHLESS MONGRELS! OR DO YA' WANT ANOTHER BEATEN'!?"
The Warchief was interrupted by the barking orders of the Brute Pusher, who's Pack had now begun its advance.
"I'LL PUT YOU DOWN MYSELF YOU WEAK SODS! ONWARD, ONWARD, ONWARD!!!
Gethin had covered one of his ears during the whole shouting spree, only removing it once the Brute pack had moved far enough beyond his hearing.
"Oie, I hate it when we stand too close to that, Boss.
The Warchief scowled,
"Yeah..."
was all he spoke, biting back his frustrations.
"Just keep your eye out, it's distractions like that which will get us in trou-"
"GAHH!!'
shouted Gethin, his body wincing forth in pain.
The Warchief instinctively rolled away, bringing his gun back and shooting at whatever stood behind Gethin. Immediately a small figure fell to the ground, its long spear still protruding from the Fixer's back. Another of the small creatures appeared from behind the crystal formation, lunging forth at the Warchief.
The leader turned, readying his gun for a second shot, worried that it may come too slow as the creature bore down on him. Suddenly, a shot range out and vicious fluid rained down on the Chief as his attacker exploded over him. Wiping away the oozing blood from his face the Warchief saw Gethin, grinning ear to ear, gun barrel smoking as he gave the Chief a thumbs up. "Figured if you died Boss then ain't no one 'round to git this 'ere spear outta my side, heh heh."
--------------------------------------
The tiny creatures advanced upon Mongo, brandishing their equally insignificant spears menacingly. The moved without tact, without planning, each one acting on its own, with no sense of teamwork or cooperation- they were not worth his time. Mongo snarled at the creatures, their weapons breaking against his skin in some feeble attempt to do him harm. What insult was this? Mongo had demanded a challenge, and yet his foe had sent such puny creatures against him? The rage swelled in Mongo's gut- he would show his foe just how much of a waste these thing's lives had been.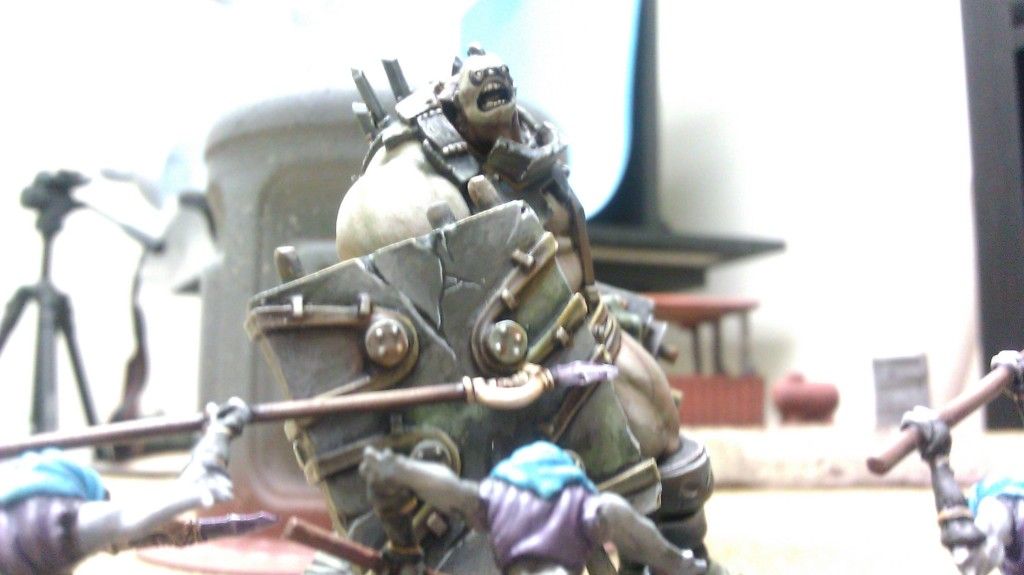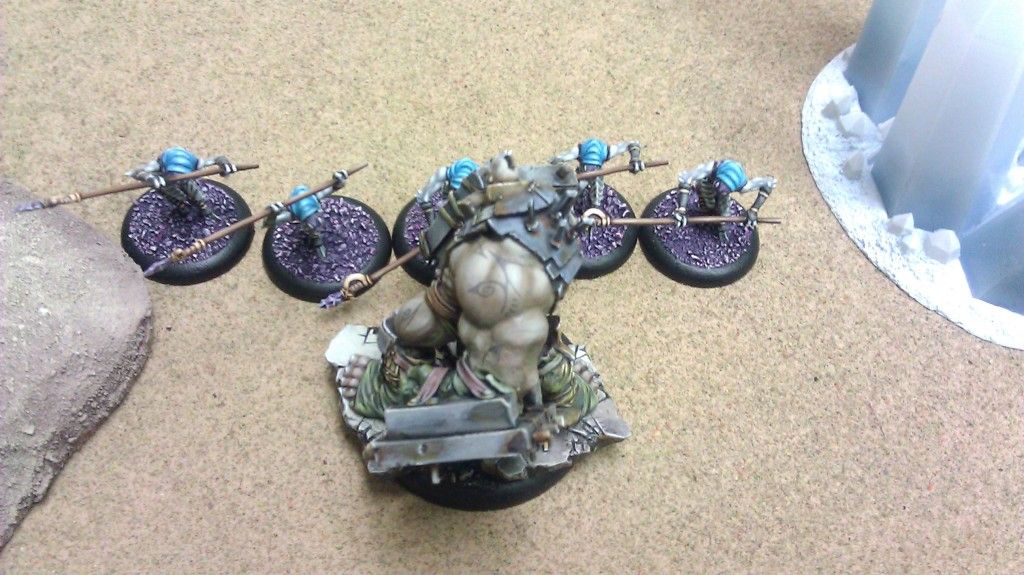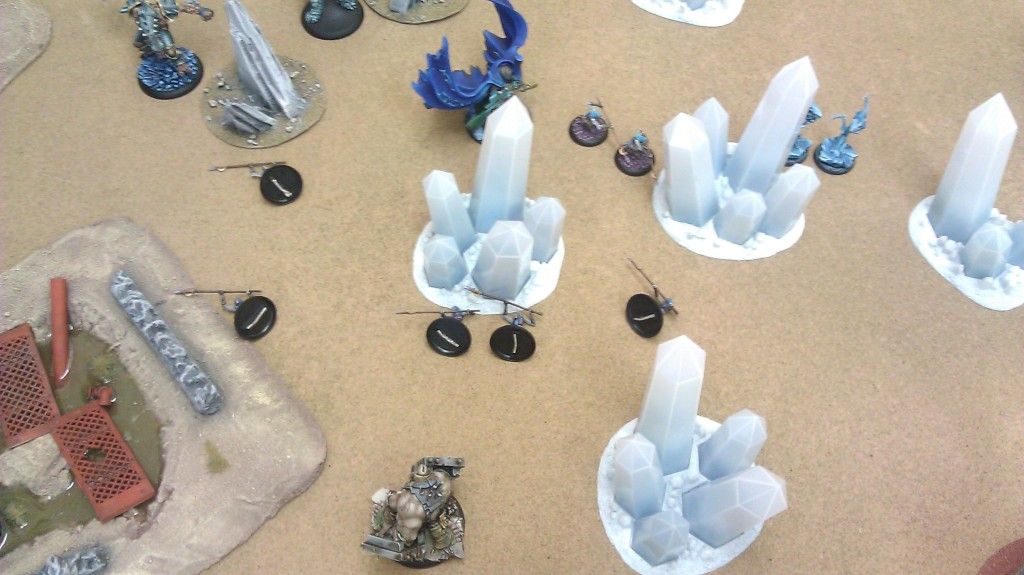 With an earth-shattering smash Mongo brought his arms down, cratering the ground where he stood and sending the insignificant creatures flying back, fully half dying from the sheer force of their knockback. Mongo eyed the enemy leader once more as he mustered his strength to pull his arms free from the sunken ground, stepping up and out of the new hole he had created.
-------------------------------------
The Arbiter watched the proceedings with cold disposition. The first trial had been completed, and the creature before him proved worthy of his time- not that he had doubted this. He began to raise his axe, readying himself to charge in, but he was stopped as the large Ice Elemental next to him began to stir, the ground frosting over as it began to lumber towards the front-lines.
The Arbiter turned to the old Soul Warden, seeing him lost in concentration, controlling the mighty avatar through will and thought. There was no stopping the Ice Elemental once it began its move, and the Arbiter wished to personally put down the foe before him. Reluctantly, he stayed his weapon, waiting to see if his chosen adversary could best this new challenge.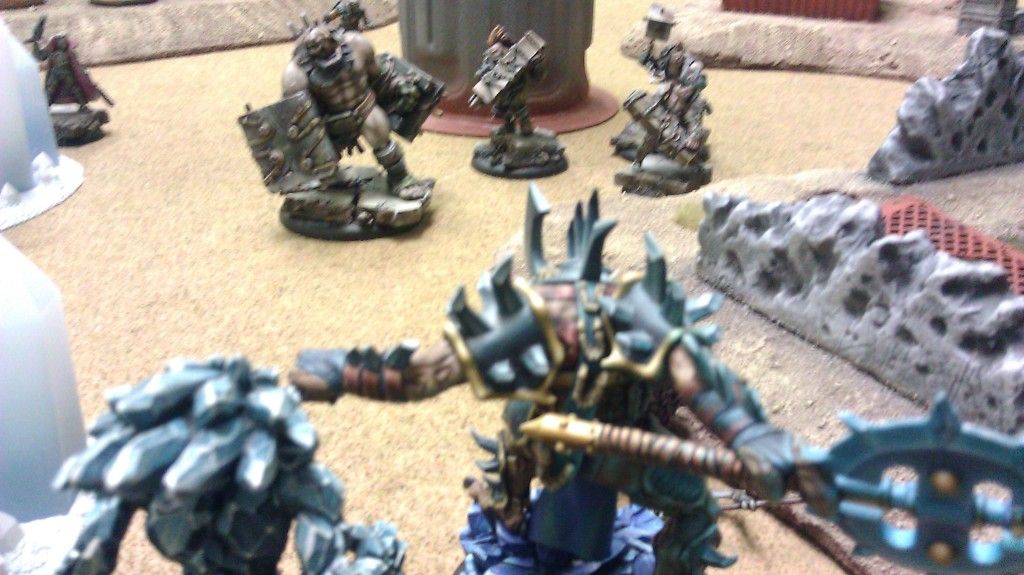 The icy beast lumbered forth, gaining momentum as it silently charged the Brute's lines. Mongo motioned to the Brute next to him, beckoning him to hold for attack. The stoic figure nodded and readied his weapon, meticulously turning the large block sideways.
The ice-creature threw itself forward, frozen claws raised high to swipe at the large combatant with suddenly its leg was swept out from under it- quite literally so as the Brute's precise move paid off. Moving with a speed unfitting its kind the Brute had rushed in, carving its large blok in an sideways swing, shattering the beast's leg in a freezing mist.
As the creature began to topple forward, it's own momentum betraying it, Mongo brought his mighty bloks together in a crushing blow, hamming them together against the thing's head, sending fragments of ice and snow flying in all directions. With that the creature's lifeless body fell to the ground, cracking and breaking under its own weight.
Mongo merely grunted as he returned his gaze to the largest of the enemies. The Arbiter couldn't help but smile, despite having an honored elemental fall so easily. This foe was indeed worthy, and glorious combat was about to commence...
And that's all we have for you this time, dear readers! But tune in next time for our thrilling conclusion! Will Mongo continue to smash through the Ice Caste's warriors? Or will the calculated cunning, or pure brute force, of Luck'kit-kaii prove to be his downfall? Stay tuned to find out! -Mr. Black